I've expended quite a few words recently on our need as an industry to honestly own our emissions problem and to take the COVID pause as an opportunity to rethink our ambitions of unfettered growth. (TL;DR: We need something approaching real-zero, not CORSIA based net-zero, when it comes to emissions and in the meantime we need to stop stupid, dishonest and self-defeating PR[1].) Therefore, rather than engage in more self-flagellation I thought that I would end this trilogy of climate blogs by briefly looking at cumulative industrial emissions with a little sideward glance to the other emitters in the UK.
Very often people look at the forecast emissions per sector in 2050, see aviation is a substantial part of it and then focus their ire on the industry. However, this neglects the fact that climate change effects from 2050 will be a response to total emissions between now and then. Over the last thirty years in the UK the aviation industry has been somewhat of a bit player in our contribution to climate change. The cumulative contribution has been less than 1/20th of the total emissions since 1990 and in that period we've experienced the significant growth resulting from deregulation and the subsequent Low-Cost Carrier (LCC) expansion.
Historically, domestic emissions have been dominated by the power industry, by surface transport (road and rail), from building construction and from the manufacturing industry. The aviation industry has emitted slightly less carbon than our country's waste processing activities. Of course, such figures mask big changes that I have mentioned before. The overall emissions picture has seen real improvements in the energy intensity of the UK power supply as well as in waste treatment. Industrial emissions have also been on a long-term declining trend[2].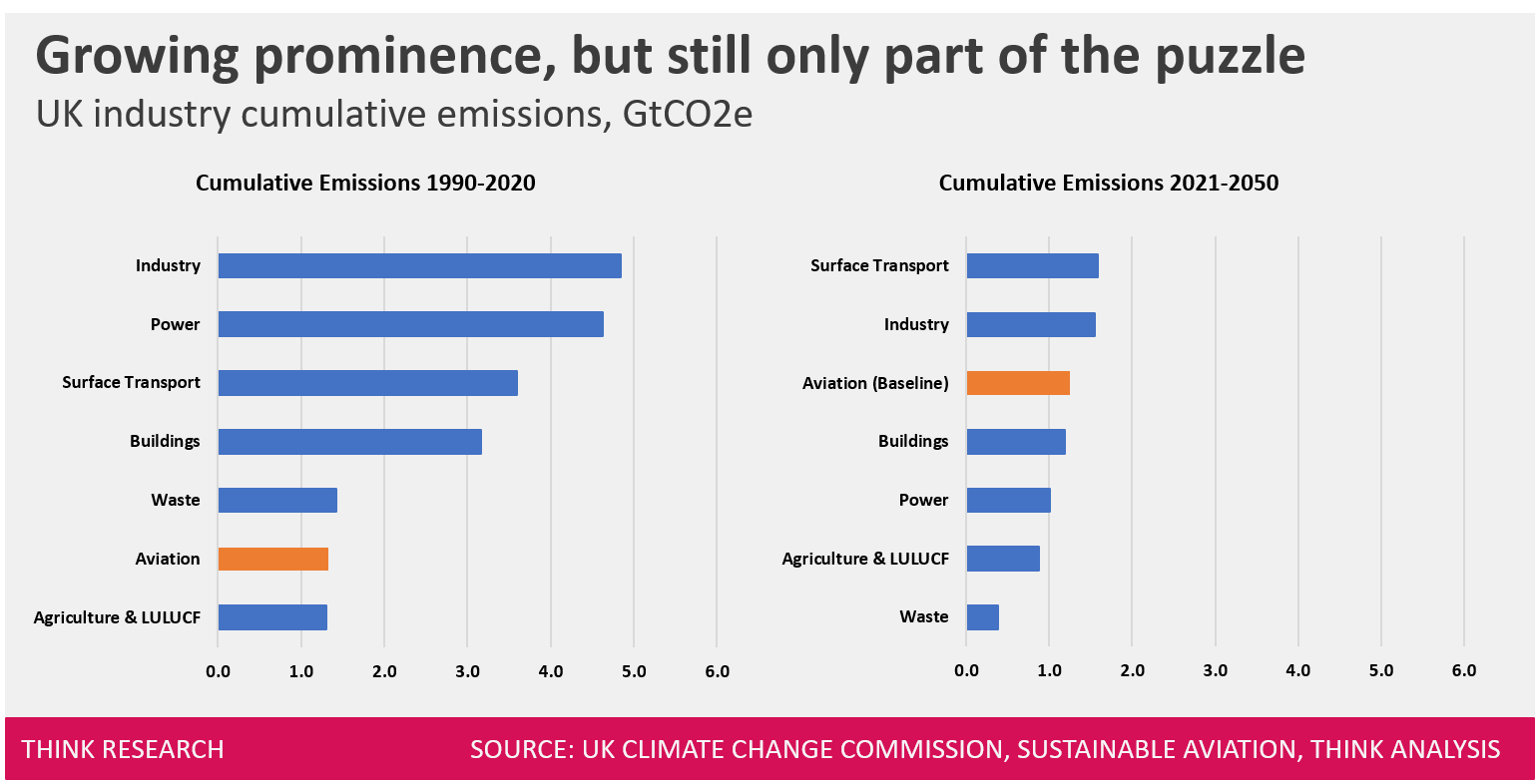 Looking to the future
If we look now to the next thirty year period (as shown in the figure above) it can be seen that aviation as foreseen represents a more substantial but still not dominant share (around 15%) of cumulative emissions and becomes the third to fourth biggest cumulative emitter. Interestingly, unless greatly accelerated, the uptake of sustainable fuels has very little forecast impact on aviation's cumulative emissions as they are not expected to address a tangible element of aviation's emissions until close to 2050.
Of course, these numbers are forecasts and there are substantial challenges in delivering the net zero challenge across the economy as a whole. These include:
Delivering on the transition to electric vehicles for surface transport including the necessary infrastructure for charging for all properties (not just those with their own driveways). It is expected this will be particularly challenging for some categories of HGV and for certain trains.
Shifting 95% of our power generation to renewables and low carbon sources. Capturing and storing the carbon emitted from the remaining 5% which would be gas power.
Delivering on a transition from gas to electricity for home heating and cooking. This is not to be underestimated when new homes are still being constructed with gas boilers and hobs. New homes from 2025 will need to be gas-free and very quickly thereafter there need to be credible electric alternatives for all existing homes replacing gas boilers and hobs.
Substantial improvements in household recycling.
Substantial levels of Carbon Capture and Storage (CCS) provided.
The other elephant in the room is to what extent imported emissions from our consumption will be reduced. Delays in decarbonising in the large manufacturing countries around the world is going to continue to impact our effective emissions substantially.
Clearly there are significant challenges to all sectors to be overcome to deliver the Government's ambition for net zero. It is likely that at times other industries will struggle. I believe that their challenges present opportunities for an aviation industry currently perceived to be an environmental pariah. An innovative, progressive aviation sector could focus on exceeding our expected level of emission reduction, expediting new solutions faster than foreseen and gaining the credit for doing so. Strong investment in new technologies, infrastructure and services will allow the UK industry to continue to be globally successful and competitive and recreate some of the jobs we are losing right now. A combination of measures could be applied as we've outlined before. When other industries struggle aviation's success could give the country breathing room against its Paris climate commitments.
This isn't just wishful thinking; we're starting to see evidence of tangible near-term progress in aircraft technology. We will be talking more about some recent developments in electric and hydrogen aircraft and the implications later in the week.
Despite everything happening in the industry, there is some space for optimism.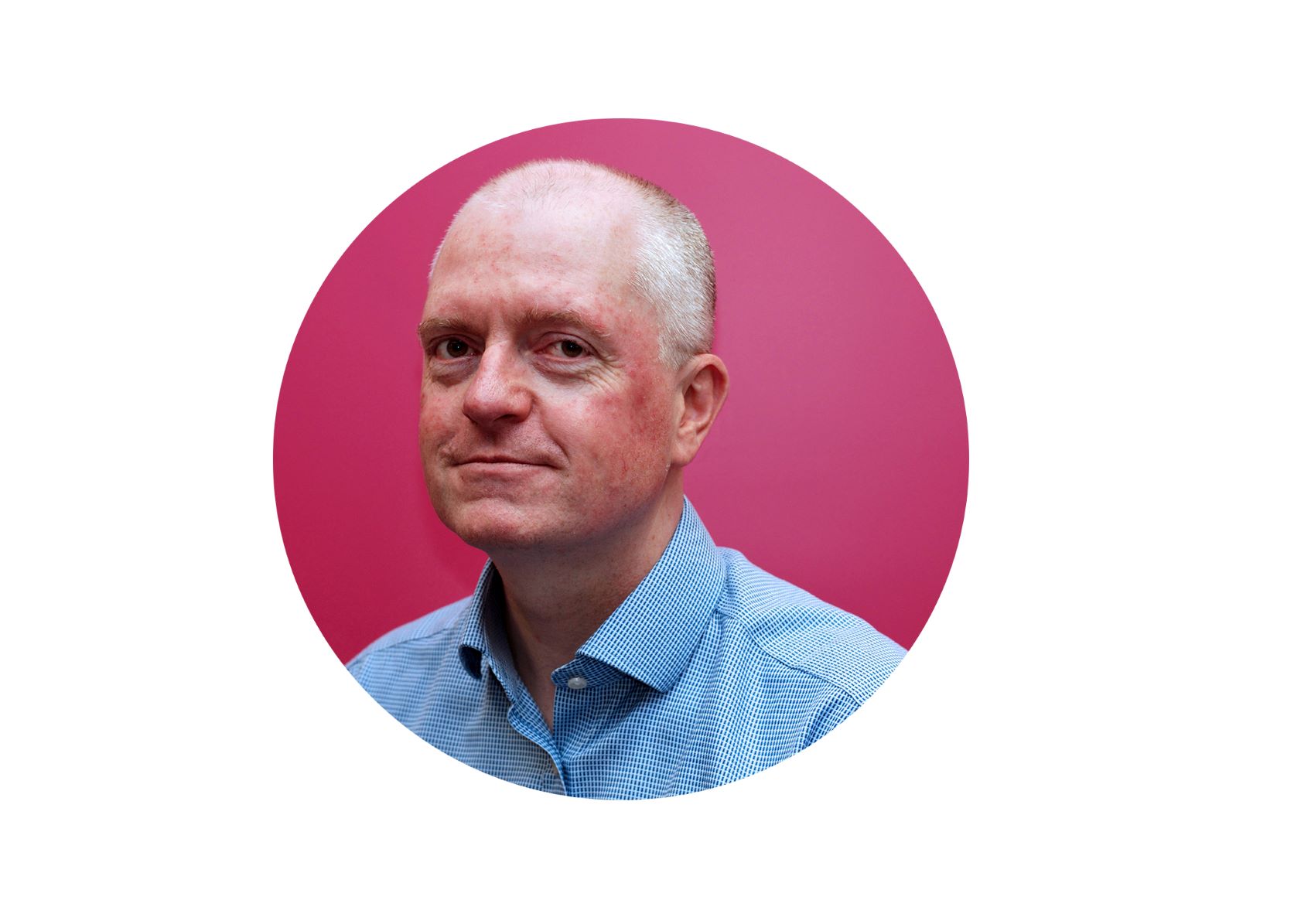 Author: Steve Leighton, Airports Director
---
Additional Information
[1] My current favourite is 'Aviation isn't the problem, Carbon is the problem'. Good luck in taking your next Carbon free flight to Dubai. It's a bit like being in the 1960's and saying 'Smoking isn't the problem, it's Nicotine that you need to watch out for' -whilst we have substitute products now the only solution for decades was to stop smoking!.
[2] It is also important to note that the decline is more than offset by emissions we have offshored as our manufacturing capacity is increasingly provided by overseas companies. This may be less of a climate success story than a long-term failure of policy towards the importance of a domestic manufacturing industry.