Overview
As one of our core capabilities, simulation is a method used for a variety of purposes ranging from airport capacity analyses to ATCO training.
Airports and ANSPs deal with challenging situations caused by the ever-increasing traffic demand. Periodically, their operations may need to be reassessed in order to solve constraints that may otherwise limit their ability to serve increased traffic levels.  Whilst for airports the solutions could include the introduction of a new runway, a new ATC operational enabler like e.g. Time Based Separation (TBS) or biometric technologies in the terminal,  ANSPs evaluate new air traffic concepts, procedures or changes to airspace and systems.  If the options on the table are not correctly evaluated, they may prove to be inadequate leading to lower benefits than planned.
Any introduction of change to an airport or ATC operation implies an investment is being made, either in technology, new operational procedures or both.  Simulation enables the evaluation of different investment alternatives to help decision making.  There are many different types of simulation methods that can be employed. The decision as to which method to use depends on the results needed. It is vital to choose the appropriate method to reduce risk and ensure the right results are produced at the right time.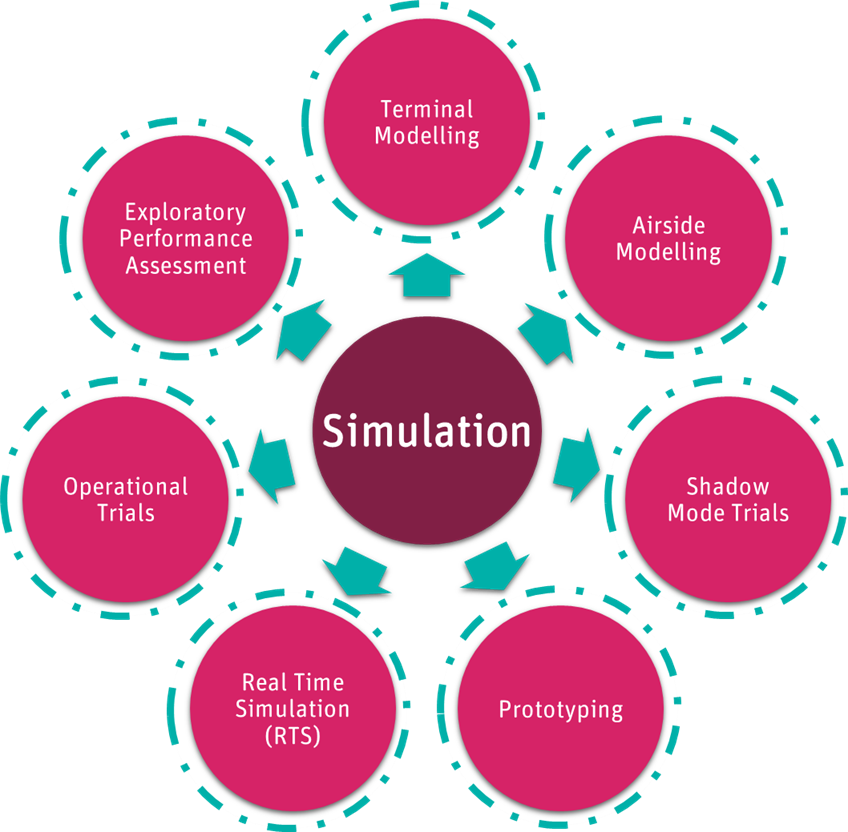 How we can help
We are highly experienced in a range of simulation techniques from those that take place in the early stages of concept development such as prototyping, to the activities conducted at later stages due to the amount of investment required.
Since we began in 2004, we have planned, prepared, executed and reported on over 150 real-time simulation activities all over the world from central Europe to the Middle East.  For these simulations to take place, the confidence in the solution needs to be high and the human-in-the-loop (HITL) aspect provides the opportunity to gather feedback on the concept in areas such as Human Performance and Safety.
Our team have supported shadow mode trials involving Remote Tower technology in Scandinavia and operational trials for the implementation of Intelligent Approach (IA) at Heathrow airport.  Whereas in shadow mode trials the concept is tested in a real-time operational environment and is running 'in the background', operational trials imply that the concept has undergone rigorous testing and evaluation and is ready to be deployed and tested in the operational environment.
Furthermore, we have assisted airports ranging in size from major international to regional on the reconfiguration of their TMA or on the introduction of new concepts and regulations.  Whether an airport is reaching its capacity limit in one or more of its areas or an airspace change is being planned, we can help. Our experts use Fast Time Simulation tools that allow us to conduct accurate analyses and deliver precise results:
RAPID, a bespoke Think analysis tool, is used to estimate the benefits of various operational enablers such as Time Based Separation (TBS), RECAT-EU or RECAT-EU-PWS on airport performance.
AirTOp is used to model and test scenarios related to airspace and airfield developments or challenges such as capacity assessments, airspace re-structuring, operational and infrastructural changes. The tool provides visualisations and large data outputs used for conducting analysis.
ArcPORT is used to conduct detailed models and analyses of the entire terminal where we can identify key capacity constraints or assess the impact of changes such as the introduction of biometric technologies. Our aim is minimising the impact on passenger experience and airport budget hence we assist in the smooth upgrade of both the areas and processes involved.
Simulation activities are too valuable to leave to chance. We are simulation specialists and understand the uses, benefits, considerations and methods better than any other consultancy. We are the obvious choice to help you.
You can find out more about each type of simulation technique and related services below.
By submitting the contact us form below you are agreeing for a member of our team to contact you to discuss your requirements and for us to process and store your data. Please refer to our Privacy Policy for more details.
Contact us to discuss your project
By submitting the contact us form below you are agreeing for a member of our team to contact you to discuss your requirements. Please note that details you submit will not be passed onto any third parties. Please refer to our Privacy Policy for more details.
Contact us to discuss your project