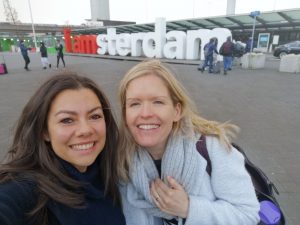 Think ATM Consultants Sarah Cavanagh and Sarah McLarty recently took a trip to Amsterdam to visit LVNL, the Air Traffic Control provider for the Netherlands. Think have been tasked by NATS with leading their upcoming development simulations for the implementation of Intelligent Approach (IA) at Schiphol airport.
The Think Sarahs had the opportunity to visit the LVNL Operations centre to gain some valuable information on how the Approach Operations at Schiphol airport works, and this information will assist them in their planning of the simulation activities. These development simulations shall be hosted at NATS in the upcoming months.
They also got to experience a traditional Dutch meal of 'Stamppot rauwe andijvie' (Endive mash with meatballs) with the LVNL controllers!