During the first week in June, the final UDPP (User Driven Prioritisation Process) validation exercise took place at the Eurocontrol Experimental Centre at Bretigny, France. The validation was led by our very own ATM Consultant, Katherine Cliff.
UDPP is a rare thing to find inside SESAR2020: Airspace users and dispatchers in particular take centre stage rather than the usual Air Traffic Controllers. The main aim of the project is to provide flexibility to airspace users to reorder the sequence of their flights according to their business needs whilst ensuring equity between different airspace users. UDPP allows an airline to prioritise key flights to enable an increase in likelihood of connecting passengers and reducing the final leg of the day being cancelled due to curfew restrictions.
If the future concept is to enable a user preferred trajectory, it would be good to see more projects that look directly at the airline processes.
Find out more about our work on validation and how we can help: https://think.aero/services/validation/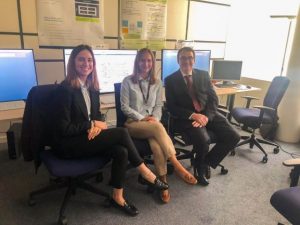 Photo: Maribel Thomas and Paul Ravenhill visiting Katherine Cliff during the UDPP validations