WHAT IS ISA?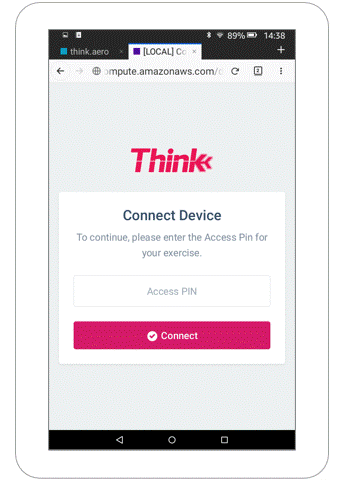 iSA stands for Instantaneous Self-Assessment and is a subjective means of measuring user (ATCO) workload during simulated or live operations. Workload assessment is essential when introducing new technologies to ensure that requirements for operation are within human capabilities. Optimum workload is a key enabler of increasing capacity through achieving peak Human Performance (HP).
iSA was first developed for use in Human-In-The-Loop (HITL) Real-Time Simulations for ATC research and development simulations. The purpose of the ISA technique is to ask a user the same question (e.g. "How do you rate your workload? 1-5") at regular intervals to observe how perceived workload evolves over a period of time.
Recording subjective workload 'live' provides a more valid dataset for comparative HP assessment between scenarios and other variables. iSA outputs can also be compared to system-logged performance metrics and workload ratings submitted retrospectively to provide additional support to findings or enable the investigation of discrepancies that may be caused by tool support, HMI design etc.
OUR SOLUTION
Traditionally, an analyst would request a workload rating from the user either verbally or using flashing lights on a workload scale interface. However, these methods are often intrusive and distracting. Also, it is not practical to assign one analyst per user for larger-scale activities.
Our 'iSA' is a portable, electronic version of the commonly used ISA. We created iSA as a Web Application for the large proportion of clients who don't have workload assessment systems integrated into their operational or simulator platforms. In addition, it can be difficult and expensive to install them in safety critical ops rooms or in simulator facilities.
Based on Think's experience across Human Factors, simulation and analysis tools, it seemed natural to develop an innovative, low-cost solution that we could use in our projects but also provide to clients to use themselves.
iSA connects an admin interface to any number of low-cost portable touch input devices. Everything is synchronised and controlled from the admin portal.
Why will Think's iSA console be useful to you? Here are the main advantages:
Portable – making it easy to introduce to (and remove from) a ops or simulator facility;
Flexible –the format and timing of questions are completely configurable;
Scalable – no restriction is placed on the number of devices that can be linked;
Simple – can be operated with no requirement or prior training;
Cross-Platform – iSA can be hosted on any web-enabled handheld, tablet, laptop or PC device;
Low Cost – priced appropriately for both continuous use and for single activities.
Think's iSA web application was designed in consultation with our Human Factors experts, to be easily used by anyone involved in any HITL simulation that requires assessment of perceived Workload.
REGULAR ENHANCEMENTS
Here at Think, we are eager to continuously improve our services. That's why our team are committed to regularly reviewing and improving our iSA solution to ensure that we are providing our customers with a simple yet highly reliable tool, as well as for our own use.
Therefore, we will update iSA based on direct feedback from our consultants and clients, including Validation Teams and participants. In conjunction, our Human Factors experts continue to provide a heuristic evaluation via a HCD approach to ensure that any updates also support a seamless and intuitive user experience.
FLEXIBLE PURCHASING OPTIONS
Different projects have different needs and we recognise that one size does not fit all. In order to accommodate various levels of required support and to keep things simple, we offer 3 distinct purchasing options:
Software licence-only;
Software licence with hardware loan and set-up;
Software licence with supplied hardware and set-up.
Regardless of whichever option works best for you, using Think's iSA does not require basic training and it can be used straight away. However, in order for our users to gain value from all of its features and for greater cost effectiveness, it is advised that training is considered – which Think can provide at a reasonable cost.
If you want to find out more about our iSA Web Application, take a look at our presentation below and get in touch with us directly at info@think.aero.