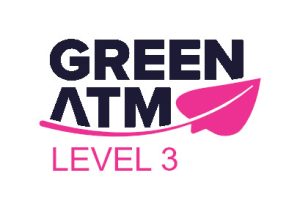 Today at the CANSO Executive Summit held in Geneva, we saw the first accreditation being awarded as part of the CANSO GreenATM programme. This independent programme, which was launched last year, aims to assess, and celebrate the efforts of ANSPs in seeking to minimise excess emissions within their airspace and to reduce their direct environmental impact, as well as identifying areas for future improvement by the ANSP.
At the dedicated awards ceremony held today, CANSO announced that Skyguide are the first ANSP to have successfully completed the accreditation programme and were awarded a Level 3 in recognition of their environmental efforts across their operations. This is a great achievement for Skyguide and the first of many GreenATM levels that CANSO hope to award this year.
As secretariat of the programme, we have led the evaluation and review process from start to finish. The team have evaluated the responses and evidence submitted by Skyguide against the objectives for the 5 GreenATM levels. This work enabled them to make an award recommendation of Level 3 to CANSO's GreenATM Panel who approved the award. Nick Boud, who leads the GreenATM team here at Think says:
"Today is a great achievement for Skyguide and CANSO and is the culmination of much work over the past two years making GreenATM a reality. Think is proud to have played its part in achieving today's accreditation, through the rigorous evaluation of Skyguide's submission. We are looking forward to receiving and evaluating a number of further submissions this year that we know are already being prepared by other ANSPs."
Click here for the full press release for more details.