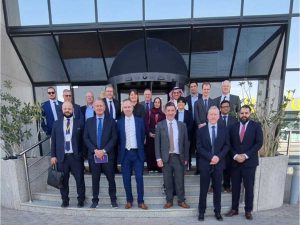 A couple of weeks ago, Think took part in the UK Department for Business and Trade airports trade mission to Saudi Arabia. James Lewis took part in the mission alongside sixteen delegates from UK companies representing the full spectrum of airport services. The mission was comprised of meetings with the kingdoms leading airport companies, suppliers, and contractors over two days in Riyadh and one day in Jeddah.
Day 1 kicked off with an introduction by the British Aviation Group and Department for Business and Trade to the mission delegates. This was followed by presentations from Red Sea Global, Pinsent and Masons, Arabian Enterprise Incubator, and the Riyadh Group for British Businesses.
The mission then headed out for meetings with Alfanar Group, El Seif Group before returning to the British embassy to meet with representatives from the Public Investment Fund (PIF) and MATARAT. Day 1 culminated in an evening reception at the embassy where Think had the opportunity to talk with a number of international businesses currently operating within the Kingdom.
Day 2 included a meeting at the General Authority for Civil Aviation (GACA) where representatives from Dammam Airport and Riyadh Airport were also present. Next the mission headed to Jeddah to continue the program.
Day 3 saw the mission have meetings with Jeddah Airport Company, Al-Mabani General Contractors, ICAD and Asyaad Group.
It is a very exciting time for aviation within the kingdom given the huge ambition to meet the Saudi Vision 2030 and Think looks forward to being able to play our part within this.