Think MD, Conor Mullan will moderate a webinar tomorrow (11th August ) on 'The Role of Digital Towers in Future Air Traffic Management'.
The webinar is being run by Airport Show Insights and ATC Forum at 2pm and will include guest speakers from SAAB Digital Air Traffic Solutions and Micro Nav.  The 1 hour webinar will look at how the Digital Tower concept has been evolving over time, how to simulate and train staff to be ready during the pandemic and will also feature a live broadcast from an Remote Tower installation in Europe. If you would like to attend the webinar then please click here to register.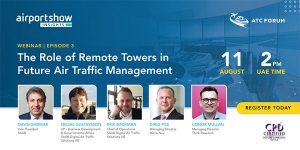 The Remote and Digital Tower concept is one that Think helped to develop and is a concept that is gaining more momentum acceptance within the industry today. Click here for more information on the concept, our predictions for the future and to explore our 'living map' of Remote and Digital Tower installations.