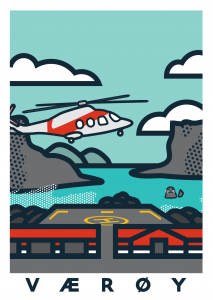 At the end of last week, on the 19th October, another milestone was achieved in Avinor's Remote Tower roll out.  Following approval from the Norwegian Civil Aviation Authorities, the team at Avinor were given permission to enter live trials with the new system developed by Avinor in conjunction with Kongsberg Defence and Aerospace and Indra Navia.  The aircraft – Widerøe WF892 from Bodø – landed at Røst, marking the next stage in the progress towards a full Remote Tower Centre at Bodø, planned to be operational in the second half of 2020.
Our own involvement in bringing Remote Towers to the Norwegian Arctic began almost 10 years ago, under the earlier SESAR trials.  Whilst October 2019 year saw the first aircraft land using the operational system we helped Avinor procure, the first aircraft to ever receive a remote air traffic service in Norway was LN-OLV, the Lufttransport August Westland AW139 passenger Heli-service between Bodø and Værøy in January 2013.  The trials in which LN-OLV took part were planned, conducted and reported on by Think under contract to Avinor, lasted nearly 3 months in total and culminated in the decision to begin the operational implementation project at Avinor.
To celebrate our involvement in the Værøy trials and to mark the milestone achieved by Avinor in Røst we commissioned artist Rinky to produce another artwork for our "Postcard Series".  On the front is the view we had the pleasure of looking at every day for 3 months, and on the back a little information about why this project will always be special to us.
Well done Avinor!