It is time to fly again.  Due to the pandemic this normal frequent flyer hasn't flown for 18 months.  Coincidently my first flight back will be the same route as the last one I cancelled – Heathrow to Madrid for the World ATM Congress.
It is a fairly regular route for me, and one I can still visualise – walking through terminals, dropping off and finding luggage, places to eat, shop for gifts and finding the metro.  I like the actual flying; I like airports; but I do not like queues and I really hate being late.  So, flying is a mixed bag for me, and I am sure for everyone else.
If you are a well drilled traveller, moving through the airport feels like a continuous process of moving from one queue to the next: baggage drop, security, passport, gate – hoping there is time in between to refill with coffee.  When it works the kerb-to-kerb journey is painless.
But when it doesn't, time just seems to evaporate. Overwhelmed security queues prevent that all important cuppa.  Aircraft missing the planned take-off slot push back anyway and apparently hold passengers hostage for an hour or two and Immigration queues [1] can be even longer.
The truth of course is that air transport isn't a seamless continuous process, but a hodgepodge of many organisations, processes, equipment and rules that often only seem to be held together by sticky tape and walkie-talkies.
This is changing.  In fact, the change started along time ago with the introduction of airport collaborative decision making (A-CDM) with its focus on integrating turnaround processes to improve accuracy of departure times.  A-CDM benefits are threefold: reduced infrastructure for baggage, fuel and catering, reduced turn around time and reduced network disruption.  But I am still stuck in a stationary aircraft full of restless passengers waiting for clearance to exit the plane.
To improve the passenger experience we need to push on and deliver a much greater level of integration.  The good news is that aviation's "Digitalisation Agenda [2]" extends A-CDM in two ways – out into the network to reduce flight times but also back in to the terminal to reduce the queuing times we actually notice.
The ATM community is getting used to phrases like Airport Operations Centre (APOC) and Total Airport Management.  But what do they mean for the passenger?
As we are researching in SESAR's PJ.04 [3] APOC is about taking the collaborative part of A-CDM to the next level by providing an integrated command and control system for the airport.  But it is not just about managing disruptions it is also about ensuring that all operational actors are able to make decisions that benefit the overall operation and not just their individual process (for example not loading an aircraft when it has nowhere to go).
The thing with command and control is that it needs data.  And the problem with airports is not so much a lack of data but rather that the sheer amount of data is so overwhelming it is becoming difficult to extract the value.  This is where Total Airport Management comes in, by providing a suite of automation tools to support improved airport-centric decision making.  Think performance dashboards that allow "what-if" scenarios to be judged on overall performance and not just the individual process, for example can you use a combination of opening and closing of security queues, dynamic gate allocations and electronic signs directing passengers to the gate to reduce time wasted in queues and extend time browsing in shops and drinking coffee?
What TAM can do is make the passenger experience feel integrated by considering how the terminal is managed as well as the apron and runways.  This means understanding how the flow of passengers can be improved to support on time performance, which in turn means learning how to understand how passengers behave. Some call this Digital Twin; but I have a real twin and one is enough.  The trick is not to get obsessed with Machine Learning and Big Data but to understands the integration of roles and dependencies between processes and build the right models to gain deeper understanding.  Improving passenger experience means making them feel in control not automating their every move.
To find out more about how Digitalising can improve the passenger experience please come and see us at World ATM Congress in Madrid, stand 540.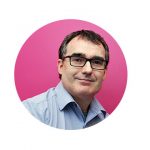 Paul Ravenhill: Technical Director, Think Research

---
References
[1] https://www.theguardian.com/uk-news/2021/oct/06/heathrow-passengers-delayed-for-hours-after-biometric-passport-gates-fail
[2] https://www.sesarju.eu/news/digital-european-sky-sria-latest-draft-now-available