There have been large advancements in the last 20 years within final approach tool support, all with the goal of improving runway resilience and capacity.  A lot has changed in recent months, but most notable perhaps is the emergence of a new focus for future approach tool developments.
Runway throughput focus
In the context of arrival traffic there has been considerable research and development since the 2000s and more recently in the deployment of final approach tool support.  The Time Based Separation concept has its origins in the early 2000s, was taken in to the SESAR-1 programme for further development and a version of it was subsequently deployed into London Heathrow by NATS and Leidos in 2015.
This early concept was focused on a very specific problem – resilience.  It was not focused on delivering higher peak throughput but on improving consistency in throughput across a range of wind conditions.
In parallel, EUROCONTROL developed the RECAT-EU wake turbulence separation scheme as an improvement over the traditional ICAO 4 Category scheme through more efficient categorisation delivering higher peak throughput.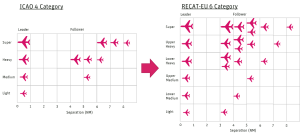 Figure 1 – ICAO 4 Category Wake Scheme vs RECAT-EU Wake Scheme
Further research conducted from 2014 onwards in SESAR-1 and SESAR2020 focused on new concepts including Optimised Runway Delivery.
These developments helped lead to a second deployment at London Heathrow in 2018 in the form of eTBS.  The NATS and Leidos developments were then packaged up into the Intelligent Approach (IA) toolset that we know today.  Think have been working in collaboration with NATS and Leidos on IA implementation projects for a number of years including the eTBS deployment at Heathrow and the ongoing implementations at Schiphol and Toronto.
Current Airspace
One feature of the current final approach tool developments is they all fit into traditional airspace design.  It is not really a surprise that our current tools are compatible with current airspace but an important note that will become relevant as you read on.
Traditional airspace design typically includes the following characteristics:
routes coming in towards an airport;
stacks to act as a "store" of aircraft when more turn up than can land;
Either routes or a Radar Manoeuvring Area (RMA) to enable vectoring onto a straight final approach.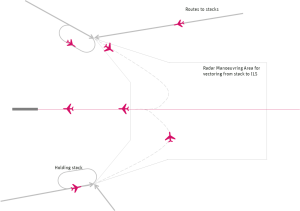 Figure 2 – Traditional Airspace Design
There also tends to be regular level-offs when traffic volume is high.  This is a result of the airspace structure and the techniques controllers need to use to maintain separation resulting in reduced flight efficiency.

Figure 3 – Level offs in Traditional Airspace Design
But still, despite the advancements made in the last 20 years, most of these types of final approach concepts still go after the same challenge – improving runway throughput for resilience and capacity purposes.  What is now becoming starkly clear is that while these goals will not be disappearing, a new driver has emerged which will be receiving more focus going forward.
A new driver
The large decline in traffic in recent months has highlighted the inefficiency of the current airspace design as the very low traffic volume has allowed aircraft to achieve more efficient flight profiles.
In addition, across industries there is a shift towards placing more emphasis on environmental improvements.  It is recognised there are examples of resistance to this such as the majority of airline bailouts coming with no environment commitments and where there are commitments there are also caveats.  However, environmental sustainability is a necessary and inevitable future.  This was reiterated in the recent CANSO Global Conversations where the drive for environmental sustainability was highlighted as one of three common themes.
An example of this direction, is the Sustainable Aviation UK Decarbonisation Roadmap updated in early 2020 laying out the high-level plans for the UK aviation industry to achieve net zero carbon emissions by 2050.  It is here where we find a very interesting line in this roadmap – "expanded use of Intelligent Approach across the UK".
It is therefore clear that there is need for much greater consideration of the environmental impacts of aviation. Resilience and throughput can no longer be the only focus of new aviation developments and we cannot perpetuate environmentally substandard operations just to maximise runway and airspace capacity. Our focus in future needs to be all three factors – the environment, resilience and capacity.
But what more can we do to improve our environmental performance in the approach?  Before we get on to that question lets pull together a few more pieces of the puzzle.
New opportunities
A key pillar of future ATM improvements is airspace modernisation including concepts such as Performance Based Navigation (PBN).  Development plans have been in place and pre-March 2020 were slowly being executed.
In these recent months we have found ourselves in a drastically changing world in the aviation industry.  An IATA forecast predicts passenger revenue is not expected to return to 2019 levels for three to four years.  In addition, cash strapped airlines are phasing out the older and less efficient jets from their fleets.  We are not short of examples in the current climate of iconic old jets getting an early retirement.
And that right there is opportunity.
With new concepts that rely on aircraft technology there is often a challenge when you have a mix of old and new aircraft.  It is by far easier to design your new system or concept with a significant majority of aircraft using the new technology.
There is a growing motivation to push forward with airspace modernisation in either an accelerated form or at the very least a "not delayed further" form.  Environmental motivations and an increasing proportion of modern jets in the fleet support this case. If now is not the time to push airspace modernisation then when is?
The Future
That means we now have three catalysts:
Proven deployment of final approach tool support operating in a traditional airspace design;
Increasing proportion of modern jets in the fleet through retirement of the older jets;
A drive for airspace modernisation in the next few years.
What do these pieces of the puzzle mean in the context of a newly increased focus on Environmental improvements?  How does final approach tool support fit into the story?
To harness the full potential of airspace modernisation you need a fully integrated ATM system where the airspace, controller tool support and aircraft performance can work together.  This is where the potential of final approach tool support can be an integral part of this new system.
Imagine a simple case of PBN arrival routes bringing aircraft down from the upper airspace all the way to the runway.  It would work to a certain traffic level but probably could not meet 2019 traffic levels due to lack of flexibility.  This is where current airspace design is actually very effective due to its flexibility.  There is a reason why Heathrow and its stacks land so many aircraft but these types of operation come at the expense of environmental efficiency.
However, PBN arrival routes will do wonders for predictability.  There are a limited number of routes, we know which route everyone is using and hence we know track miles to touchdown.  It could not be more perfect for Continuous Descent Approaches (CDAs).

Figure 4 – Continuous Descent Approaches using PBN Routes
The introduction of PBN arrival routes has the effect of removing options for the controller.  When aircraft are on fixed routes, headings are no longer an option leaving altitudes and speeds as the remaining options.
Altitudes will not help when streaming aircraft in-trail on the same route.  That leaves speeds as the only means available to the controller to adjust the separation.  How do we support the controller in a PBN environment when we have removed options from their usual tool kit?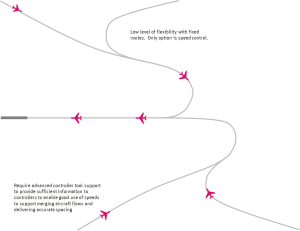 Figure 5 – PBN Arrival Routes
This is where the current final approach tool support comes in.  Concepts such as TBS could be extended further up PBN arrival routes to provide spacing information much earlier taking into consideration all routes and the desired landing sequence.  Controllers will have less flexibility, but they will be provided with the necessary spacing information at the right time to make up for it.
We have the environmental impetus, airspace modernisation is much needed (and in progress) and the remaining fleet is increasingly capable of advanced RNP procedures. However, without the ATC tool support we will fail to maximise the environmental benefit and return on investment in airspace modernisation. In our opinion, it is therefore timely to push forward with the extension of final approach tool support to the approach in its entirety.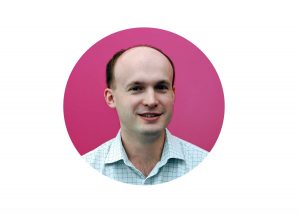 Author: Peter Weeks, ATM Consultant