When embarking on a process of capturing requirements for procurement, here at Think we take consideration of the resources available and the time constraints to define a methodology best-suited to the particular circumstances. Nevertheless, there are some key phases which remain consistent; which are described on this page.
It is important that the foundation of any requirements are the needs of the end users. We have considerable experience in using various methods and approaches to explore user needs and priorities through discussion in workshop sessions. These activities also draw on expertise from safety, human factors and security expertise to highlight further demands.
In partnership with customer-side operational experts, the identified needs can be grouped into use cases. These can be refined in terms of detail and scope until they represent a comprehensive view of the functionality required from the solution requested for procurement. Once these use cases have been verified and agreed with the operational experts, they can become the basis for an initial functional requirements set.
Our consultants review each use cases for required aspects of the solutions functionality and formulate these into clear and concise requirements. Wider, KPA-related requirements may also be contributed by customer management to define the requested operational performance benefits. This set of requirements is then subjected to an iterative process of review and refinement until they are sufficiently mature to support extraction of an equivalent set of technical requirements.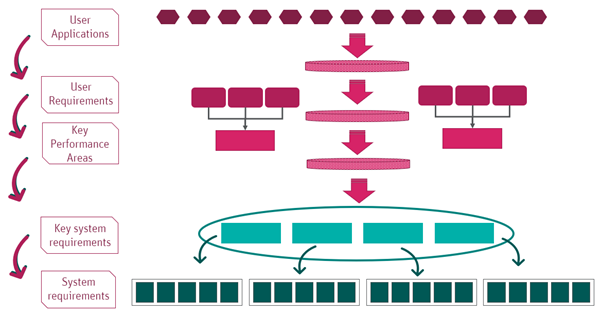 Think Requirements Capture Approach
The development of technical (or system) requirements requires coordination with the customer systems team to ensure that they are sufficiently descriptive and understandable to potential suppliers. Again, this process is typically iterative to identify any gaps and avoid overlapping requirements.
At the point where the technical requirements set are accepted by the customer, a full specification for the solution procurement can be produced. This document then forms the basis of a market assessment and future stages of tendering and candidate supplier assessments. Following selection of a supplier, the requirements captured buy this process can be repurposed to support verification and validation activities.
By submitting the contact us form below you are agreeing for a member of our team to contact you to discuss your requirements and for us to process and store your data. Please refer to our Privacy Policy for more details.
Contact us to discuss your project