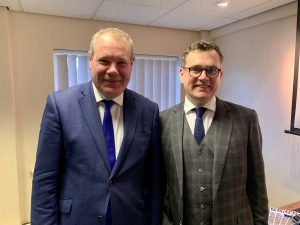 On Friday, Think MD Conor Mullan met with The Right Honourable Conor Burns, Member of Parliament for Bournemouth West and Minister of State in the Department for International Trade. Also present was Sir Robert Syms, Member of Parliament for neighbouring Poole.
Think were invited to meet with the Minister to discuss their priorities and concerns arising as a result of the UK's departure from the European Union.
Among the topics discussed were the UK government's plans for future trade arrangements with the EU, new and continuous trade agreements with other nations, timetables and content of likely trade deals and how the UK government is preparing for all the above.
Conor (Mullan) stated his concerns regarding a need to consider service companies as well as manufacturers when prioritising aspects of the future trading relationship with the EU; maintaining or replicating access and funding for European research projects such as Horizon 2020; and the importance of maintaining the UK's influence in a future European air traffic network.
He said "Think was born out of European air traffic research initiatives and I have always considered us as an international organisation. We accept the Minister's comments about growth outside of the EU but we feel strongly that such growth can only be achieved if working relationships with the EU can at least be maintained at today's levels.  We have had the pleasure of being asked to contribute to over 40 SESAR projects since 2010 and currently head up an international consortium bidding on multi-million Euro H2020 calls. Whilst the Minister re-stated the government's ambition to resolve such matters quickly, businesses are being asked to rely a little on hope and trust. Therefore we felt it important to meet with the Minister in person so that we can feel confident giving our clients the same reassurance that the UK government is currently giving us."