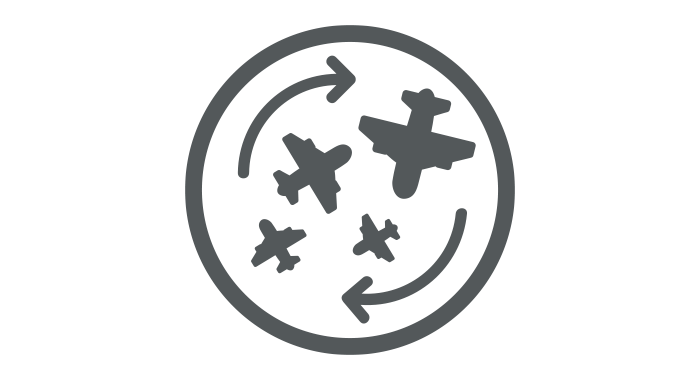 The Client
SESAR Joint Undertaking  
The Challenge
The European Parliament requested the European Commission to conduct a study on the Single European Sky (SES) airspace architecture and more specifically, how changes to the existing airspace architecture could support implementation of the Single European Sky.  The EC delegated the delivery of this study to the SESAR Joint Undertaking (SJU).
To achieve this, the SJU requested expert support to the study in order to help the SJU ensure that the study conclusions are evidence based, beneficial at EU level and where possible acceptable or at least understandable to the diverse stakeholders that make up the European ATM system.
Our Approach
Our approach considered how best to take advantage of digitalisation to enable the deployment of a harmonised EU-wide ATM system that provides the necessary services with higher performance and lower cost than today's fragmented system. The optimisation of airspace is intangibly interlinked with the service provided and the organisations that provide them. A new airspace architecture could fundamentally change the way we think about ANS provision.
Our experts first peer reviewed the draft report from the SJU ensuring that the preliminary results were proportional and reasonable to the aims of the study. In this review it was important to respect the fair balance between the interests of individual stakeholders and the general public interest. Aside from an assessment of the technical quality of the report, concrete recommendations on how to improve it were also provided.
To compliment this advice, a critical review of draft European ATM Master Plan was undertaken with suggestion provided on how particular changes to the airspace architecture may have an impact on the SESAR performance ambition, Vision and operational and deployment views
Our final task was to help refine the proposals for a target vision of the future architecture of the European airspace; including in support of the creation of the European Upper flight Information Region "EUIR" (Article 3 of Regulation (EC) No 551/2014.  
The Outcome
The work is ongoing with results expected to be published in 2019
Contact us to discuss your project