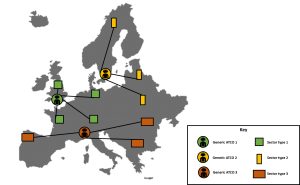 This month a series of Gate Reviews have been completed by the SESAR Joint Undertaking for two SESAR 2020 Wave 1 projects in which our team of ATM consultants have been providing validation support for the last 18 months.  The projects included both Collaborative Control and Generic Controller Validation.
The validation exercise for the Generic Controller Validation work was complimented with the SJU saying the amount of progress was impressive considering the project budget.  Our validation expertise was applied to great effect where we selected validation techniques appropriate for the level of maturity of the concept.  One technique was a paper based exercise which, despite its relatively simplistic nature, proved to be very effective at extracting the information needs of the controllers. 
This validation exercise set the project on the right course for building a successful Wave 2 concept.  Another example of where our experience in validation allowed us to pick the most appropriate techniques to maximise results and guide future investment in new concepts and technologies.